Duxbury Half Marathon is back again LIVE!
The 10th Annual Duxbury Half Marathon will take place Saturday April 2, 2022, running thru Historic Duxbury Village, past bogs and bay shoreline, some hills for your delight and a nod from Myles Standish Monument! On your mark, get set, ...let's do this!
Online registration has ended for the 2022 Duxbury Half Marathon, but in-person registration is still possible. Refer to the day-of details below for registration and bib pickup times.
Be sure to follow us on Facebook for more information.
Thank you for your support! This race benefits the Duxbury Senior Center Programming including Alzheimer Day Program.
Run safe, run strong, run Duxbury!
Race Time & Location
Saturday, April 2
7:30am at the Duxbury Senior Center
10 Mayflower St. in Duxbury, MA.
Bib Pickup and Registration
Thursday, March 31, 4-7 pm at Marathon Sports, 134 Washington St. in Norwell
Friday, April 1, 4-7 pm and Saturday at 6:30 am at the Duxbury Senior Center, 10 Mayflower Street, Duxbury
Parking
Holy Family Church (across from the Fire Station) and 1000' walk to the Duxbury Senior Center
Water Stations
Mile 2, 4, 6, 7.5, 9.5, 11
Oysters, Bagels, Bananas, Water & Coffee
At the finish line
Porta Potties
Only at start and finish line
Have a super run, the weather looks awesome!
A big thank you to all of the sponsors of the 10th Annual Duxbury Half Marathon!
Business Sponsors
Delaney and Muncey
Portside Realty
Duxbury Animal Hospital
Guilfoile Family
LaTorre Family
Colleen Maimaron, CPA
Mile Marker Sponsors
Campbell Smith Architects
Sheehan Orthodontics
Phillips Tree Service
Katz Family
Signs on Site
Wiemeyer Dentistry
Delaney and Muncey
Vercollone Family
Guilfoile Family
Colleen Maimaron, CPA
Stillman and Associates
VNA Norwell
Ockers Office Supply
Standish Capital
OCES- Old Colony Elder Services
Plymouth Fitness
The course starts at the Senior Center on the edge of the town forest along Mayflower Street, originally an ancient Indian trail. The gentle hills prepare you for Bay Road, 2 miles of "heartbreak" hills, and water vistas. You'll enter "downtown" Duxbury and circle around Standish Shore, running along paths the Pilgrims walked on Captains Hill.  Captain Myles Standish (the monument) will point the way to the Shipbuilders District and scenic Washington Street. Catch your breath, you have only 4 miles to finish!
This route gives you a bit of everything from scenic vistas, beautiful flats and challenging hills. This community fully supports the runners offering you orange slices, water stations and good cheers.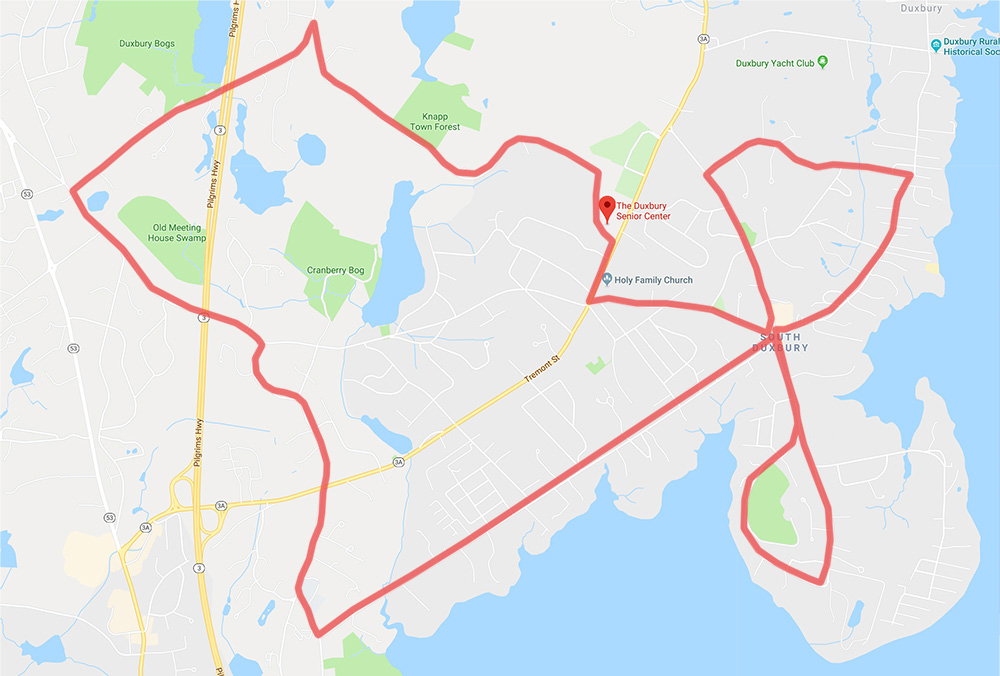 Start at Duxbury Senior Center, take Mayflower to East St, to Elm St, Oak St, Parks St, Bay Rd to Halls Corner, Standish St loop, Halls Corner, Washington St, Surplus St, Depot St, Halls Corner, Chestnut, Tremont St to finish back at Duxbury Senior Center.