This pandemic is changing our lives in so many ways.  But we can still run!  We can no longer hold our race here in town on August 29th as we had hoped.  But runners can still train and complete a half marathon run.  Notify us and we will send you your bib and medal.  Please run 13.1 miles, anywhere and any time before Sept. 15, 2020.  Please send us some sort of "proof" of your run (a mileage tracking device photo or similar).  This way you still support our Duxbury Senior Center and all its wonderful programs, both virtual and in person when that time comes again!
We are also offering refunds or deferrals to our April 3, 2021 race for those already registered.  Send an email to duxburyhalf@gmail.com by 6/29/20 with any requests or questions.  Also check out our Facebook page to register or for more information.  Have a great "Virtual" run! 
The Duxbury Half Marathon event is sponsored by the Duxbury Friends of the Council on Aging. Your registration fee benefits the Duxbury Senior Center and the Alzheimer Programs.
We welcome any Boston Marathon runners doing a taper run to consider running ours "virtually"!
The course starts at the Senior Center on the edge of the town forest along Mayflower Street, originally an ancient Indian trail. The gentle hills prepare you for Bay Road, 2 miles of "heartbreak" hills, and water vistas. You'll enter "downtown" Duxbury and circle around Standish Shore, running along paths the Pilgrims walked on Captains Hill.  Captain Myles Standish (the monument) will point the way to the Shipbuilders District and scenic Washington Street. Catch your breath, you have only 4 miles to finish!
This route gives you a bit of everything from scenic vistas, beautiful flats and challenging hills. This community fully supports the runners offering you orange slices, water stations and good cheers.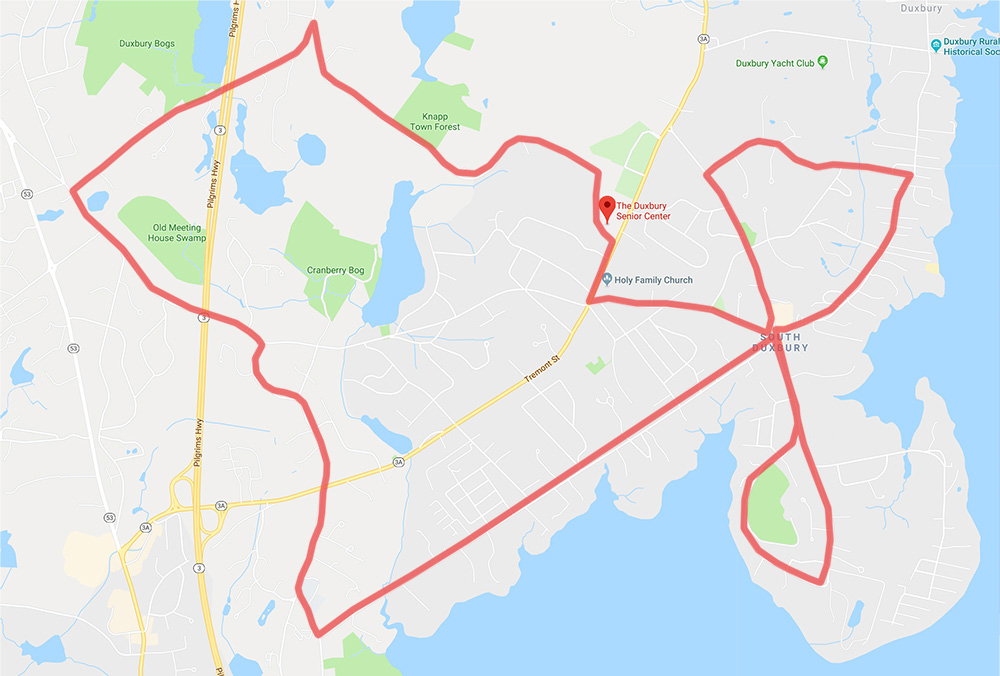 Start at Duxbury Senior Center, take Mayflower to East St, to Elm St, Oak St, Parks St, Bay Rd to Halls Corner, Standish St loop, Halls Corner, Washington St, Surplus St, Depot St, Halls Corner, Chestnut, Tremont St to finish back at Duxbury Senior Center.